FEEDING AMERICA
One service, one online platform, designed to battle against food hunger!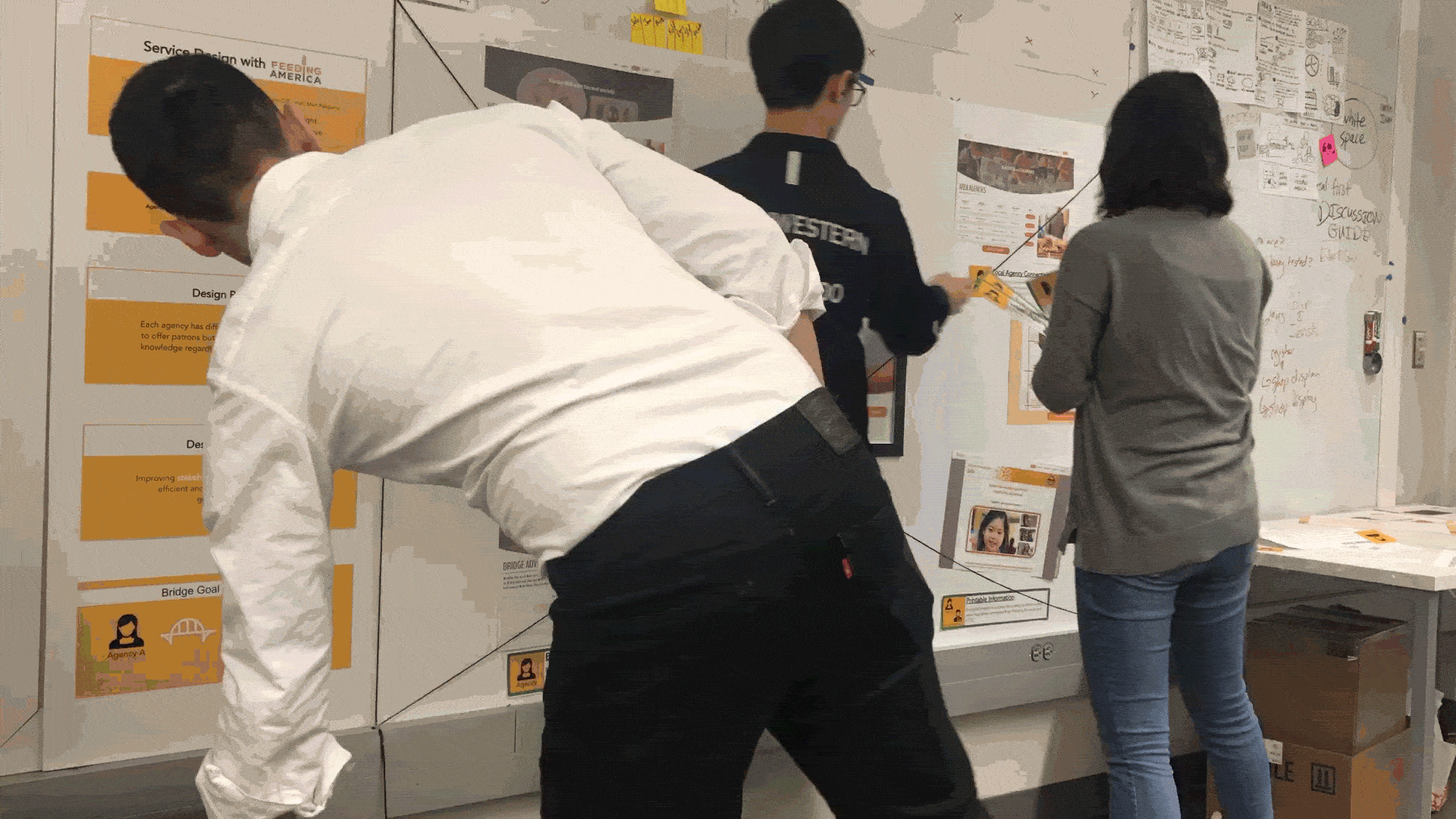 OVERVIEW
Feeding America continuously battles against the food hunger by creating a nationwide network that focuses on bringing food to people in need by becoming a bridge with suppliers and pantries, while preventing and decreasing food waste. These stakeholders encounter various challenges and have different needs/desires to become better against them. Therefore, the team focused on identifying their needs and problems to further improve their work experience and created a service solution.
OBSERVE, UNDERSTAND, IDENTIFY
In order to identify the problems and hidden needs, the team visited various food suppliers, shadowed managers and volunteered in different food pantries. With each visit, team was able to gather key information and create different frameworks to understand the process more and learn more of the stakeholders. The team identified that there is a disconnect between how each agency runs and communicates. Agency managers need to easily access necessary information to accelerate their growth at an organizational level, however, currently, the information is not easily accessible and is time consuming to even find.
DESIGN DIRECTION
How might we build a supportive network for agencies to share information and connect to improve their performance?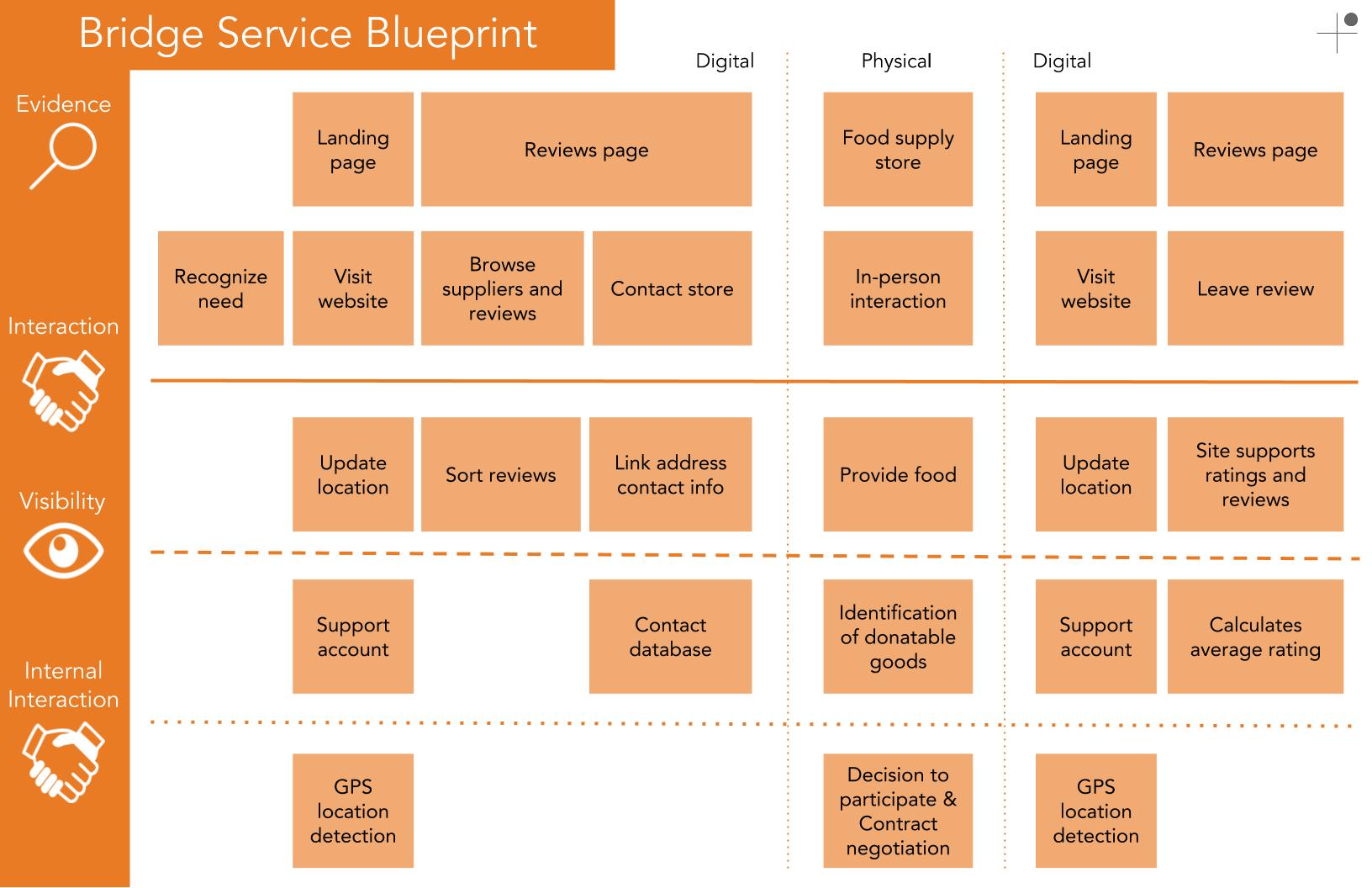 IDEATE, PROTOTYPE, ITERATE
Next step was prototyping! The team created a web platform that connected agencies to share knowledge and collaborate. Through various user testing cycles, the team iterated multiple times to deliver the final solution: Bridge, a one-stop platform for agency success.
BRIDGE
Bridge is a digital platform designed to serve the local agencies with the right and fast information they need for an efficient organizational structure without disrupting their main workflow. Bridge aims to promote knowledge transfer and collaboration while providing assistance to both experienced and new coming agencies and creates a better journey!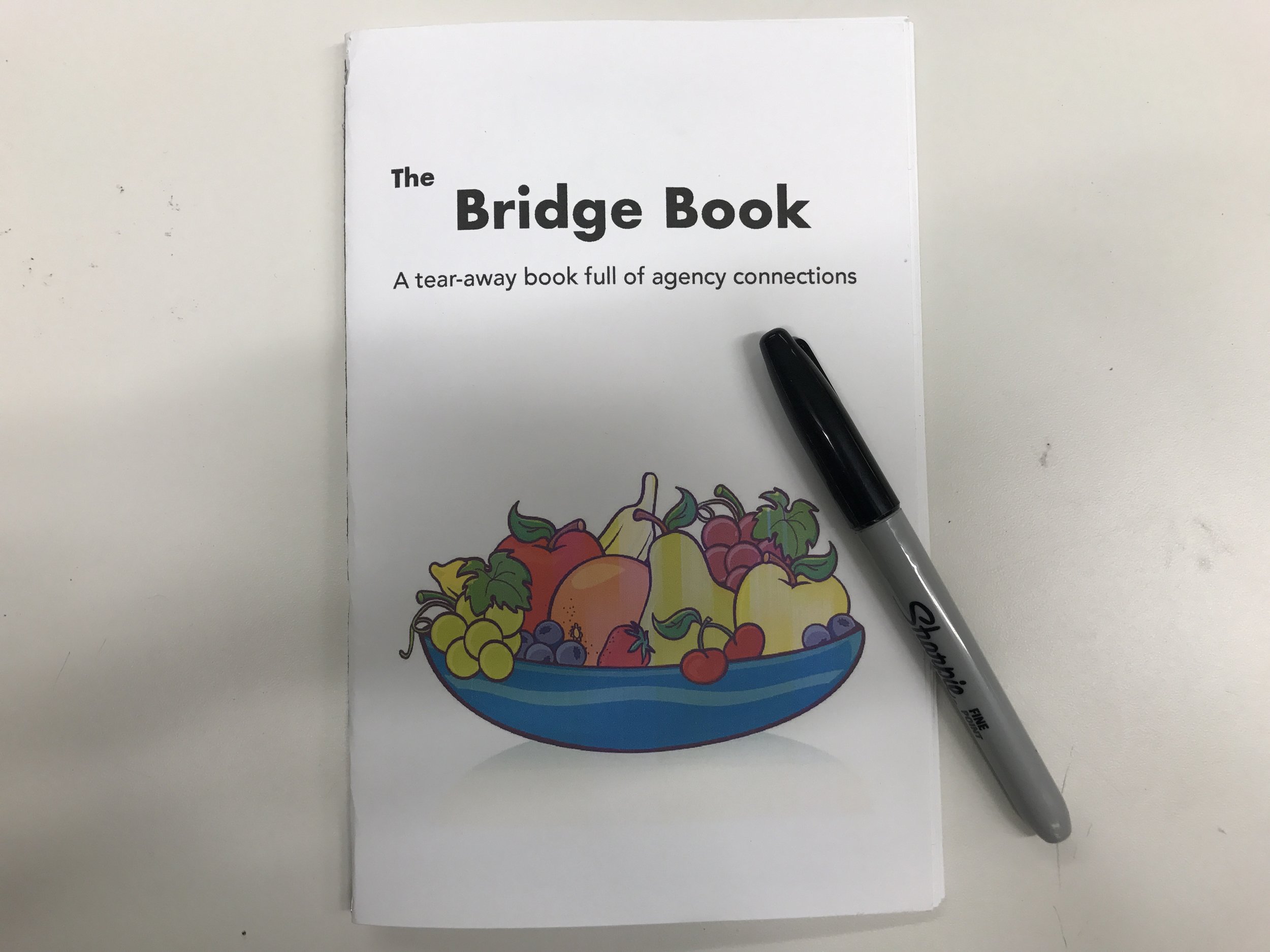 FEATURES
Bridge offers various features tailored for every stakeholder in this ecosystem. Below are the highlighted features:
Volunteer Page: Volunteers can learn about events at agencies and sign up through the Bridge platform.
Donation Page: Agencies can share what they would like to receive and food suppliers can donate to specific agencies.
Area Agencies Page: Agencies can see their neighborhood agencies, understand their service and connect with them in order to exchange knowledge and collaborate.
Bridge Advisor Page: Agencies can apply for an Bridge Advisor, a regional consultant trained by Feeding America in order to improve on specific areas and skills.
Bridge Book: Patrons can better locate where each agency once agencies perforate their information from the Bridge Book.